Buying a wood moisture meter is important for your woodworking project due to how precise your measurements need to be to ensure a perfect finished product. Wood shrinkage or swelling due to moisture will damage any joint that you spend time making so starting with the correct moisture content is vital.
Finding a good moisture meter for your needs is a bit of a challenge because you have to figure out what features are actually important as opposed to a marketing gimmick.
The only feature that matters for a wood moisture meter are its accuracy and if it has pins or not.
Indoor furniture requires a moisture content of 5% to 9% depending on your location so you should get a meter with an accuracy of 0.1%.
An electromagnetic meter is important if you are working with small pieces of wood you don't want to poke a hole in.
We made this review to consolidate this information about your moisture meter options to assist you in making the best choice if you decide to buy one. Let us know in the comments if a specific brand is your favorite.
Moisture Meter Guide
Brand
Accuracy
Features
Price
Wagner Orion 910
> .1%
pinless, 7 year warranty
$379
mini-Ligno
0.1%
Pin type, 6-55% range
$119
Extech Mo55
0.1%
pinless
$109
Klien ET140
3%
Pin
$39
General MMD4E
3%
Pin
$31
TACKLIFE MWM03
2%
Pin
$45
Sam Pro Dual
NA
Pin
$40
Dr Meter
.5%
Pinless
$56
Accumaster Duo
3%
Pin, sensor, 5-50% range
$63
Stark 14013
none
pin sensor, 0-99% range
$20
Accumaster Duo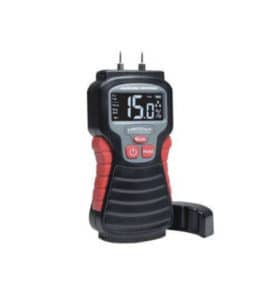 Stark 14013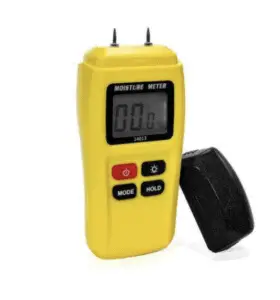 General MMD4E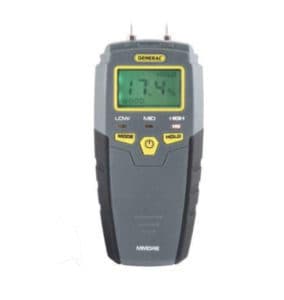 General MMD8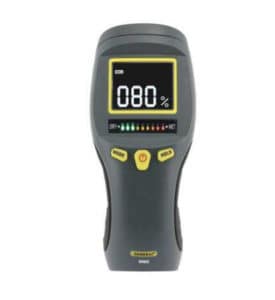 Klein ET140